Producer's profile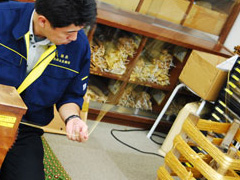 1 Location - Kyoto Prefecture
2 Name - Terashima Daigo
3 store name - Terashima Yasutaro Syouten
4 profession - Producing gold and silver yarn
5 Recommended Items - Card case/Furuya paper set
6 Date of Birth - 1973/9/16
7 constellation - Virgo
8 motto -To help someone crafting special things
Introduction of the producer
Founded in 1897, a challenge of the fourth generation
Mr.Terashima Daigo is the fourth generation of Terashima Yasutaro Syouten that specializes in gold and silver yarn production founded in 1897.
Currently, gold and silver yarn made by Terashima is used for various of traditional crafts, ornamental apron of sumo wrestlers or KESHOUMAWASHI or for embroidering on dress. On drop curtains and sleeves of stages and theaters, and even in various festivals held throughout the Japan you can see the decoration of the yarn on the special cover of textiles, KESOUMAKU for the Japanese parade float, DASHI or the portable shrine, MIKOSHI. The gorgeous brightness amuses eyes of a lot of people.
In addition, he has been actively pursuing the development of new products in recent years such as strap or card case using this yarn, embroidery hat, etc..
He tells that he always thinks to want you feel the Kyoto crafts including the gold and silver yarn more and more familiar.
His company cooperates with companies of manufacturing in Kyoto.
They are designing by their selves and developing products using Kyoto products such as Kyoto embroidery, Nishijin garment and Kyoto braid.
Watchword is "sincere and polite"
Terashima's motto is to help customers who want to craft something special by using their yarn. Watchword for this is being"sincere and polite."
He thinks it is the most important to cherish the thought of those who are using yarn and to be polite to words to tell customers and to handle their products politely, carefully. The attitude and behavior is the most important.
It is also their corporate philosophy. (Terashima tells)
Terashima's challenge to spread the Kyoto gold and silver yarn more and more to people continues today.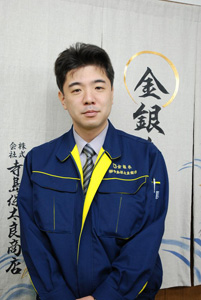 Customer's opinion regarding this product
Please share your thoughts regarding this product.