Producer's profile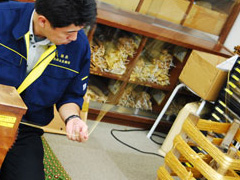 1 Location - Kyoto Prefecture
2 Name - Terashima Daigo
3 store name - Terashima Yasutaro Syouten
4 profession - Producing gold and silver yarn
5 Recommended Items - Card case/Furuya paper set
6 Date of Birth - 1973/9/16
7 constellation - Virgo
8 motto - To help someone crafting special things
What the producer is particular about
What do you pay attention when producing?
It is to control humidity and temperature when producing gold and silver yarn that use the lacquer and gold leaf. These things are very important.
The quality of the result including the shine of gold is completely different depends on temperature and humidity. By the humidity of the day work time is changed. Hundreds of thousands of sheets of gold leaves, for example, have to be stretched within several hours, it is a race against the clock.
When we stretch the yarn in straight by steam, we have to manage temperature and humidity.
Even when we cut off them we pay attention as the pitch of the twist and cut width is kept in the best state. It requires advanced skills to finish at 1/100 millimeter accuracy.
Since these are often used as a souvenir, as a present, in order to maintain its quality we pay the most attentions to the process.
In particular pure gold yarn and silver yarn need many manual work processes and these don't enter the market readily.
The pure gold yarn gives off very beautiful luster by craftsmanship.
Does the yarn have a long history?
"It is supposed that culture of gold and silver yarn has been nurtured over 1500 or 2000 years and it was in the Roman Empire, in first Tang era of China. Detailed documents are not left Unfortunately but there are traces of the existence of gold and silver yarn.
In Japan, it is supposed that pieces of them excavated from Kabutoyama ancient tomb in Shiga Prefecture is the oldest gold yarn.
It is thought that it is the ruins of around 6 century from the late Jomon period to Yayoi period. It seems that it was used for decoration embroidery of costume of noble people. It is said that along the Silk Road from Europe, via China and the Korean Peninsula it was brought to Japan.
For at least about 1500 years, the culture of gold and silver yarn has been nurtured, I feel the eternal romance." Mr.Terashima says.
Do you have messages?
We think that the most important thing is to think of the person who will use this yarn and make it wholeheartedly. We would like people to use it, know the beauty of it and feel familiar more and more.
We hope your works will become further more wonderful by using our yarn and we want to continue to put on even more efforts.
everyone using the gold and silver yarn emits a more beautiful shine, we would like to continue to work the future even more.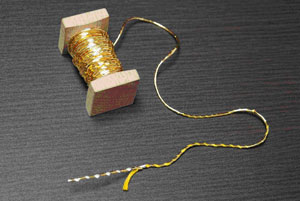 Introduction of the producer
Founded in 1897, a challenge of the fourth generation
Mr.Terashima Daigo is the fourth generation of Terashima Yasutaro Syouten that specializes in gold and silver yarn production founded in 1897.
Currently, gold and silver yarn made by Terashima is used for various of traditional crafts, ornamental apron of sumo wrestlers or KESHOUMAWASHI or for embroidering on dress. On drop curtains and sleeves of stages and theaters, and even in various festivals held throughout the Japan you can see the decoration of the yarn on the special cover of textiles, KESOUMAKU for the Japanese parade float, DASHI or the portable shrine, MIKOSHI. The gorgeous brightness amuses eyes of a lot of people.
In addition, he has been actively pursuing the development of new products in recent years such as strap or card case using this yarn, embroidery hat, etc..
He tells that he always thinks to want you feel the Kyoto crafts including the gold and silver yarn more and more familiar.
His company cooperates with companies of manufacturing in Kyoto.
They are designing by their selves and developing products using Kyoto products such as Kyoto embroidery, Nishijin garment and Kyoto braid.
Watchword is "sincere and polite"
Terashima's motto is to help customers who want to craft something special by using their yarn. Watchword for this is being"sincere and polite."
He thinks it is the most important to cherish the thought of those who are using yarn and to be polite to words to tell customers and to handle their products politely, carefully. The attitude and behavior is the most important.
It is also their corporate philosophy. (Terashima tells)
Terashima's challenge to spread the Kyoto gold and silver yarn more and more to people continues today.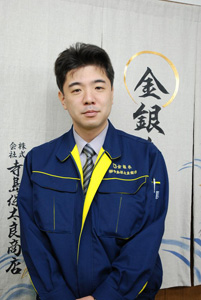 Customer's opinion regarding this product
Please share your thoughts regarding this product.