My sticking to
The charm of Toshima island in Japan production of pure camellia oil?
Using only the best "First squeeze" of camellia, any chemicals, it is that you are not using.
Completely pesticide-free, native species of natural cultivated camellia, were taken from the fruit of Camellia japonica, with 100% vegetable oil purity, I am using only the "First squeeze" of the finest fruit of camellia.
Purification also performed in a safe "hot water wash method", chemicals at all, it does not use.
Also, hard luck is fat in the body, vegetable oil , also long-lasting freshness.
Camellia oil of Toshima island is, contains many antioxidant properties in excellent unsaturated fatty acids "triglyceride oleic acid" which is said to be decisive factor of health promotion.
Less likely to peroxidation fat in the body, lowering the bad cholesterol levels in the blood, it is also effective in the prevention of lifestyle-related diseases such as arteriosclerosis.
In addition, by the action of oleic acid, at ambient temperature and hardly altered to be stored, as compared to other edible oils, can be used longer because the freshness will last longer.
Camellia oil is not sticky, I have been smooth.
For purification, I'm pretty stuck.
So as not to greasy be attached to the hair and skin, and then purified to be a good free-flowing feel of permeability.
Camellia oil that was purified far rare.
Camellia oil, it is perfect to clean the hair and skin, some people use it as sunscreen.
In addition, as edible, fried, stir-fry, dressing, will patronage the taste of food.
The gold and silver yarn, do you have a long tradition?
Culture of gold and silver yarn, has been nurtured over the 1500 to 2000 years.
Whether the gold and silver yarn was present from when? Detailed document is not yet left Unfortunately, in Rome Empire in Europe, in the era of the Tang Dynasty in China is already so there is a trace of gold and silver yarn was present.
Gold of pieces excavated from Shiga Prefecture Kabutoyama ancient tomb in Japan, it has been the most old gold in the country. I'll say that it is the ruins of around 6 century, what age of over the Yayoi period from the late Jomon period. It seems to have been used for decoration embroidery of noble people of costumes identification. Perhaps along the Silk Road from Europe, China, the Korean Peninsula, it would had been transmitted to Japan. Over the 1500 to 2000 years, and I think that the culture of gold and silver yarn has been nurtured, I feel the eternal romance.
Do you have messages?
In most important thing the creators who think of to use the yarn, I make it wholeheartedly. yarn of Kyoto gold, the beauty of silver yarn and feel familiar, I want to let me use more and more.
As work to make is everyone using the gold and silver yarn emits a more beautiful shine, we would like to continue to work the future even more.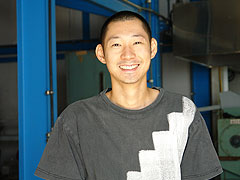 Producer's profile
Toshima island is land production of pure camellia oil of NO1 in Japan!
Toshima is, on the island of around 7.7km floating in Oshima island of south 27km, that about 80% have been colored by camellia.
Production of camellia oil has traditionally followed from the Edo era, most of about 300 people of the island's population now, and grow camellia in each, is also known for the high purification techniques.
Currently, pure camellia oil of Toshima production is both quality and quantity NO1 in Japan!!
Shimizu Keisuke who work in refineries, Masonry his training under the guru of camellia oil purification, currently, he is doing the purification of camellia oil in Toshima.
"The time of purification, the fruit of camellia is gathered from all over the island."
When walking down the Toshima, wherever you go even camellia, Camellia also camellia!
In addition, any camellia also, is care to carefully, it is much pleasant to watch.
When up to the observatory of the island, from here and there of the island, has raised a thin smoke.
"Now just, in the season to pick up the fruit of camellia, under that smoke, everyone are picking the fruit of camellia."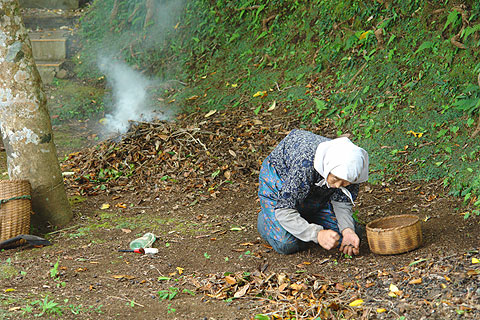 Exactly, camellia Island!
Quality can not be imitated in the mass production of camellia oil of Toshima.
By camellia oil making the people became united in Toshima, that has been nurtured every day, I felt like was seen again.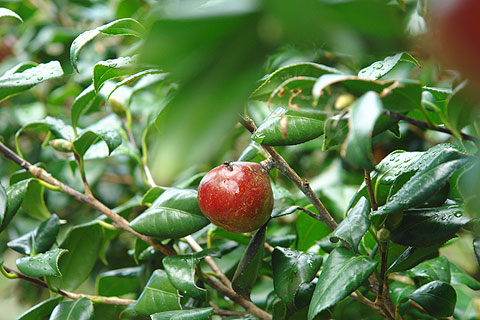 Customer's opinion regarding this product
Please share your thoughts regarding this product.