Producers introduce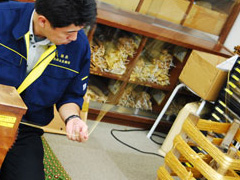 1 Location - Kyoto Prefecture
2 Name - Terashima Daigo
3 store name - Terashima Yasutaro Syouten
4 profession - yarn of gold
5 Recommended Items - Card case/Furuya paper set
6 Date of Birth - 1973/9/16
7 constellation - Virgo
8 motto - Help treasure making
My sticking to
That you are careful when you manufacture it?
Production of gold and silver yarn, because it uses the lacquer and gold leaf, humidity control, temperature control is very important.
In the management of temperature and humidity, I'm coming completely different quality. Shine of gold is completely different. So, by the humidity of the day, come decided also work time. Hundreds of thousands of sheets of gold leaf, for example, should not to be stretched to within several hours, you can come to compete with time. Also, when you stretch in straight Yunoshi the yarn, I am game between the temperature and the humidity.
Even when you turn off, as the pitch of the twist and cut width is kept in the best state, requires advanced skills to finish at 1/100 millimeter accuracy.
The management of such a process, I use the most care. Those using metallic yarn, since often it is made as a souvenir, in order to maintain its quality and has great care.
In particular, pure gold, sterling silver yarn is very much part by craftsmen, in the market, but I do not quite distribution, why, luster that gives off of this gold I will be very beautiful.
The gold and silver yarn, do you have a long tradition?
Culture of gold and silver yarn, has been nurtured over the 1500 to 2000 years.
Whether the gold and silver yarn was present from when? Detailed document is not yet left Unfortunately, in Rome Empire in Europe, in the era of the Tang Dynasty in China is already so there is a trace of gold and silver yarn was present.
Gold of pieces excavated from Shiga Prefecture Kabutoyama ancient tomb in Japan, it has been the most old gold in the country. I'll say that it is the ruins of around 6 century, what age of over the Yayoi period from the late Jomon period. It seems to have been used for decoration embroidery of noble people of costumes identification. Perhaps along the Silk Road from Europe, China, the Korean Peninsula, it would had been transmitted to Japan. Over the 1500 to 2000 years, and I think that the culture of gold and silver yarn has been nurtured, I feel the eternal romance.
Do you have messages?
In most important thing the creators who think of to use the yarn, I make it wholeheartedly. yarn of Kyoto gold, the beauty of silver yarn and feel familiar, I want to let me use more and more.
As work to make is everyone using the gold and silver yarn emits a more beautiful shine, we would like to continue to work the future even more.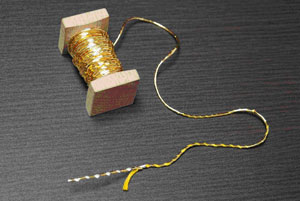 Producer's profile
Founded in 1897, the fourth generation of the challenge
Mr.Terashima Daigo is founded is the fourth generation of Terashima Yasutaro Syouten that specializes in gold and silver yarn production of 1897.
Currently, gold and silver yarn to make Mr. Terashima of the traditional crafts and in various provinces of Japan, the textile industry regardless of the couture kimono, apron and tightening the sumo wrestlers, stage and theater drop curtain and sleeves, and even huge floats of various festivals throughout Japan, portable shrine, is also used, such as in KakeSomaku that impersonate to Danjiri, with its gorgeous serving shine, we are amused eyes of a lot of people.
In addition, Mr. Terashima, strap and card case with gold and silver yarn, hats, etc., are also challenged to create products ever.
I want to feel the Kyoto craft, including the "gold and silver yarn familiar, I think there are always called. So Kyoto Manufacturing everyone in it also you cooperation of, and design by themselves, Kyoto embroidery and Nishijin, Kyoto braid we are developing products using such. "(Terashima)
Watchword is "sincere and polite"
Terashima's motto of, through the "gold and silver yarn", to help "treasure manufacturing" of customers and community. Watchword for this, seems to "sincere and polite."
It is the most important to cherish the thought of those who are used to "yarn.
So in good faith, the thing to tell, that I am the understanding and wholeheartedly.
And, politely, to be words, goods carefully handle it with great sincerity that the handing tell. The attitude and behavior is the most important. This is, I is also a corporate philosophy of out. "(Terashima)
yarn of Kyoto gold, the beauty of silver yarn, Terashima's challenge going to spread to more and more people, continued also today.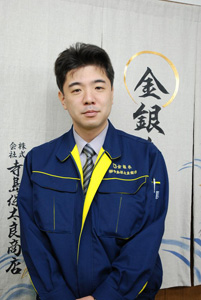 Customer's opinion regarding this product
Please share your thoughts regarding this product.