Producers introduce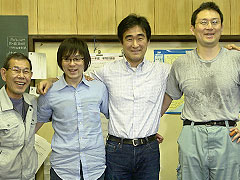 1 Location - Saitama Prefecture
2 Name - Ohya Shigeki's
3 store name - Ohya Works
4 profession - Copper grater manufacturing
5 Recommended Items - Pure copper box-shaped grater
6 Date of Birth - 1968/10/18
7 constellation - Libra
8 motto - Of now than them
Interview to Mr Ohya.
A grater that can make delicious oroshi.

--- What is the goodness of the copper grater?

We hit the copper plate with a thickness of 2 millimeters again and again to tighten it and then we start to make sharp perforations. By doing so, the strength of the copper increases, so sharp perforations can be made on the plate. Stableness increases.
And because we make the size of each sharp point delicately different, it can catch vegetable's surface efficiency. And we also make the sharp point a little bit big,therefore each pierce of the completed oroshi is big and it keeps water. Tasty crunchy oroshi is completed. It is the taste only by the handicrafts.

Customer's opinion regarding this product
Please share your thoughts regarding this product.