My sticking to
This "Edo Noriyuki time" What was the chance that it was trying to make (when E-dono)?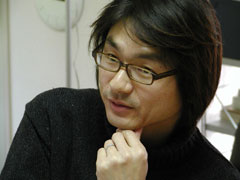 And set about was the will, it is about 3 years ago. Originally I was interested in non-ordinary method and the Japanese clock. Over the early Meiji period from the Edo era, was used in Japan, time method on the basis of the operation of the sun. After all, in unique is that day and night and the length of the moment of time changes, moreover, it is not found only in Japan in the world. Now you also tell me "Kusakimonemurushimitsudoki" but, much those words remain, it was well suited to the Japanese culture.
Japanese clock tailored to that time method are also interesting. And I was an improvement over the western watch that was introduced in the 16th century, but there one two lengths of different pendulum, it is used alternately in the day and night. Then you adjust the length of the different times of day and night, about two more times a month it, tuner is coming to fix the timing of switching. Also great structure of such a watch.
Anyway, interesting. If, and an easy-to-understand it, and if you make in the casual, I thought than some people who are interested. It's a unique Japanese culture to be proud of in the world, last year I was there even in the Edo Kaifu 400 years.
I idea is interesting to use the 12 pieces of the dial ring.
Simply Zodiac is just resting on the face of the clock, but I did not want to make like a of the. Properly I wanted to play the function of as Japanese clock. To correspond to the time that varies with time of year makes it so that the needle is to go around in 24 hours, people who use it and whether to replace yourself dial the (Chinese zodiac ring), I came up with. Setting of either time of the time is at current what is the end of trial and error, was successfully reproduced in the pot real.
Design of the watch, it is very sophisticated, all, there is a feeling of luxury.
First one (even excluding the elements of Japanese clock) as well as watch much come To - barrel design, further relates to fine detail, because I do not have any compromise.
For example, such as crown (screw), I tried to make three times. I'll have changed a lot Toka atmosphere depending on some of the excitement. Ring will also appear in white and black two colors, but it is, I'm out in four colors. Nde I wanted to put out a an old iron-ish atmosphere. In addition, we put out a little, the character of three-dimensional feeling is allowed to misregistration. It also tried to make about three times. Ranging from the belt to the package, we have the various and trial and error. Since it has been made ??with a meticulous commitment, you can recommend with confidence.
Producer's profile
"I like making things."

Kanamori Yoshinori-san, told us himself as "the smallest watch manufacturer in Japan." Although not the production of the watch body, from planning, marketing and advertising, sales, the further conduct business until repairs, Mr. Kanamori, nearly one person. The likely Kokumo Noriyuki Edo. It was taken up in hand, in the person who realized the height of quality, you may people think a little surprising many.
"First you have entered this industry, was the phrase distribution company new business as a new concept of the watch shop chain -. Down the the stand -. When to bet and I was me everything from start-up to do, I goods as well that's from property development to management of the shop. we did also many over-the-counter of pop making. but was busy, and do I I did not become bitter. it's that we make up the things, meets the sexual I you think. "

Kanamori's hails from Wakayama Prefecture. Home is the orange grove. You've seen from a young age, the figure of the father to make a tangerine. For it is Kanamori-san, is making things of the original experience. However, learned from my father, it is not only that.
"Normally, a child, is not it those get to buy the toys. But, of which I was not bought me at all. If you tease my father, to make the" yourself! "(Laughs). Nde was a farmer the tool also I had a lot. So, I'll had many made ??with bamboo. in addition, it'll'm funny (laughs) it. what you want to make your own. I also learned such a thing. "

By the way, the fun of making things, on the other hand, is also the severity. Kanamori-san, for its products, does not allow any compromise. Maybe might have strong sense of work rather than a product.
"For example, major manufacturers, I'm involved a lot of staff. So in the production process, come out various broken unless shall not part. I Toka Toka passing mark-selling line.
But, of which is my one person. Since the scale Even small, it is not make enough things themselves can be convinced. Watch body as well, over all up to the package specification, I stick worldview of the entire commodity. So far there is no compromise, such as that forgivable. "

The convincing power-up - also performed and time also cost a modification of the tree, also takes time and effort. Moreover, detail and attention by until there is, necessarily but not all things can be seen in the audience, until thoroughly or more to make.
Rather than a watchmaker, watch planning craftsman. Kanamori-san is the person who better to have called so rather might be apposite.

"If you're doing this kind of work, always'm'm such thing any problems occur. But, it all, by I overcome. Out is a part that must be corrected, is not in time delivery in this state. So the parts to make to go to pick up on their own to plant, to deliver to the assembly of the factory, and do not compromise even when can not believe the is a daily occurrence. what to somehow meet the deadline. it is not absolutely give up. But, doing up there, and come finally finished , and I think I'm really happy fun about me no more. "
Kanamori, who was cited as the "Nase made ??if" the motto is, told a joy to make a really fun to mono.

Customer's opinion regarding this product
Please share your thoughts regarding this product.