What the producer is particular about
What do you pay attention when producing?
"It is to always make excellent tweezers that pull out a hair.
In the case of tweezers, it is not a thing to decorating and enjoy like art.
Customers buy for using them and we make them one by one carefully.
I think it is the same as the making of Udon noodle or Soba noodle.
The noodle of well-kneaded dough is supposed to be tasty.
I agree to it and I am aiming to hammer some hundreds of times and make precise and durable tweezers."
Do you provide an after-sales repair service?
I want to take responsibility to my products that my name is carved on it. I hope to repair it even if a customer uses it how many years even if the condition is bad. I am so glad if my product would be used generation to generation in a family(laugh). I think that it is not at all a high price for a long time use. I think my products are usable for lifetime.
※Customers are to pay the delivery fee both ways.
Lastly, do you have messages?
Though it was written on the book which I read before, the book said that
tweezers seemed to be the only cosmetic tool invented in Japan.
On investigation Seishonagon wrote the poetry of tweezers and there was pictures of tweezers in the book of the Ukiyoe. Don't you think that it is interesting?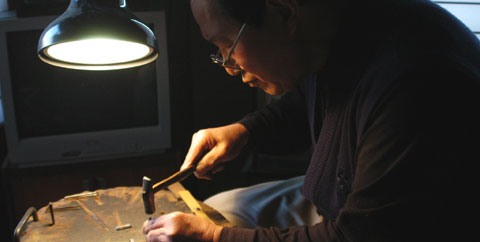 Producer's profile
What is your motto? Mmm, it is an effort.
He hammers a stainless steel plate cut into long pieces rhythmically and this hard stainless steel bar changes its form in no time.
He says that stainless steel has core. He hammers to remove the core and bend the bar in the middle of it to make the bent part the most thin using longtime perception. He tells so while smiling. He began helping business when he was junior high school student and he has inherited for more than 50 years. His products show us his spirits of craftsman.
In 1997 He received commendation as "Arakawa Meister" by his high techniques and prominent skills.
He accepts many students in their school field trips all over the country and holds his classes of craftsman experience so that he can tell the pleasure of manufacturing to the next generation while he guides his successors.
A local junior high school student visited him in work experience the other day.
Within one minute from starting hammering junior high student told him that he got tired. He told him that no one can succeed without making an effort more than others to learn a trade or to study or to become a player of sports.
The meister's favorite word effort. It carries weight.
The Arakawa meister fights with stainless steel with a hammer today.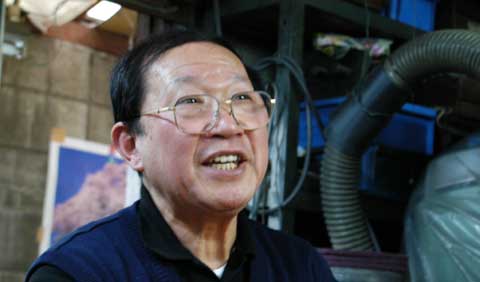 Customer's opinion regarding this product
Please share your thoughts regarding this product.